Pro-Am 2023 Raffle - 3 tickets
Sunday 11th June 2023 - Newlands Front 9,
Men play from White Tees
Ladies play from Red Tees
____________________________________________________________________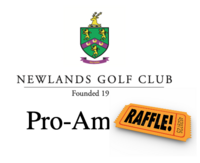 This "timesheet" allows you to purchase 3 tickets in the Pro-Am Raffle.
Click Online Signup and then click CONTINUE on the next screen.
You will be allocated 3 tickets in the raffle.
Your competition purse will be automatically charged €25.
You will receive an email confirming your entry as if you had entered a competition.

You can win one of 3 places on a line in the Pro-Am on 30th June 2023.
Draw will take place on Sunday 11th June 2023 in the Clubhouse
____________________________________________________________________